About Alison Genest
Dracut native from a farming family


30 years of private-sector experience in financial services



Leadership development professional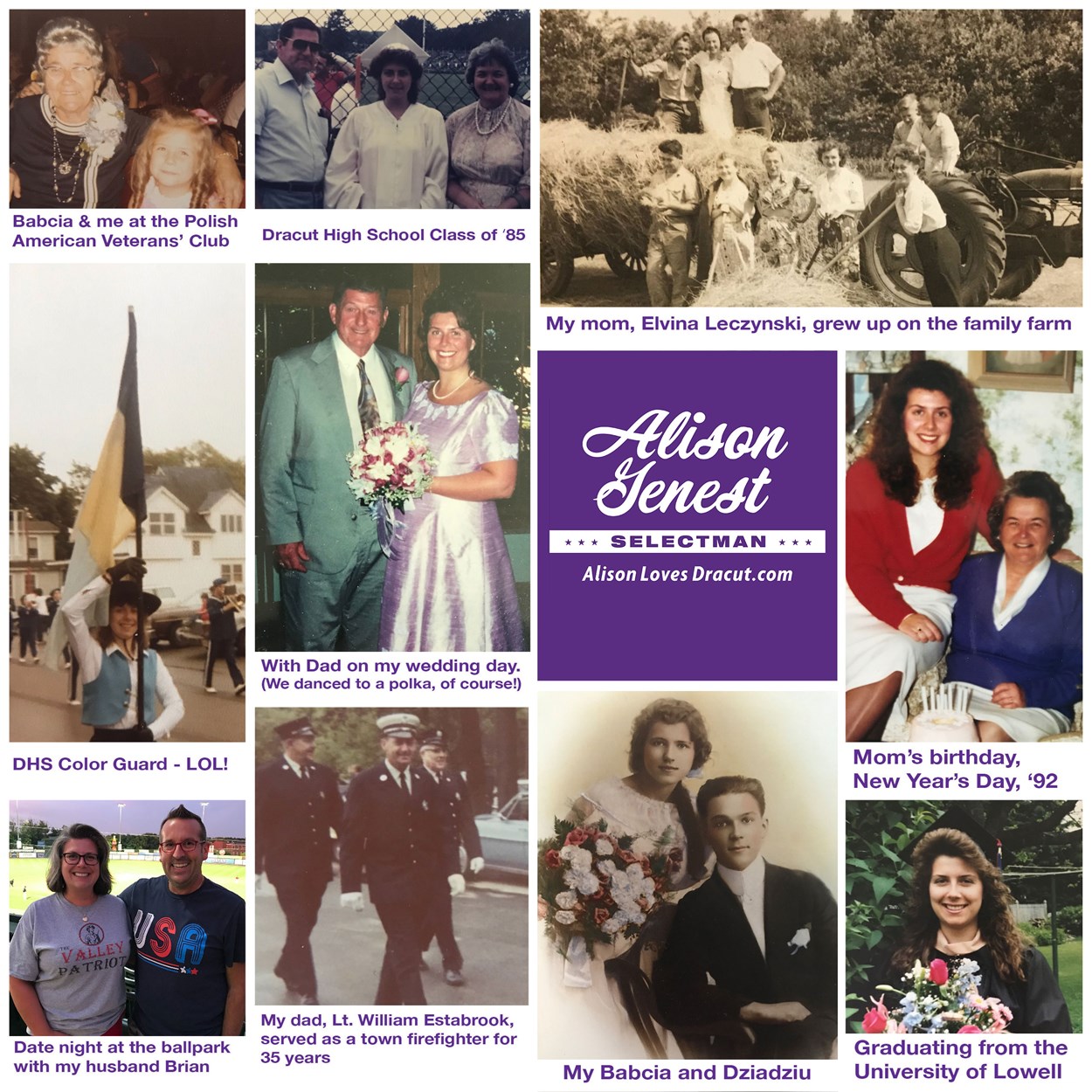 Alison Genest is a member of the Dracut Board of Selectmen. She topped the ticket in a five-candidate race in 2020, winning 9 precincts and tying in the 10th. She was unanimously elected by her colleagues to serve as the board's vice chair.

Alison is a Dracut native with deep roots in town. Her grandparents emigrated from Poland in the early 1900s, establishing the family farm on Parker Road.

Alison's mother, Elvina Leczynski, was a first-generation American who was raised on the farm with her six brothers and one sister. Alison's dad, Bill Estabrook, Sr., served as a Dracut firefighter for 35 years.

Coming from a farming family, Alison supports community preservation and is committed to maintaining Dracut's strong agricultural heritage.

At 11, Alison got her first job, delivering the Lowell Sun to her neighbors in Dracut Center. She worked throughout high school and college at Dracut Center Pharmacy and the Central Savings Bank.

Educated in the Dracut school system, Alison graduated from Dracut High School in 1985. She earned her varsity letter as a freshman member of the girls' track team. Alison was a member of the National Honor Society and was awarded an academic scholarship from the Dracut Scholarship Foundation. She earned a finance degree at the University of Lowell.

Alison's 30-year, private-sector career in the financial services industry includes extensive budgeting, management and oversight experience. For more than two decades, she's worked as a leadership and organizational development consultant. Her experience includes talent development, performance management, leadership coaching and succession planning. Alison helps leadership teams ensure business continuity by putting the right people in the right roles at the right time, to meet critical talent, operational and organizational needs.

As a Selectman, in collaboration with her colleagues and the town manager, Alison is focused on a variety of issues, including keeping Dracut affordable, strengthening planning and oversight, and supporting public safety. She is co-chair of the board's Economic Development subcommittee and a member of the Open Space & Recreation subcommittee and the Public Safety subcommittee.