Dracut Selectman Alison Genest is running for re-election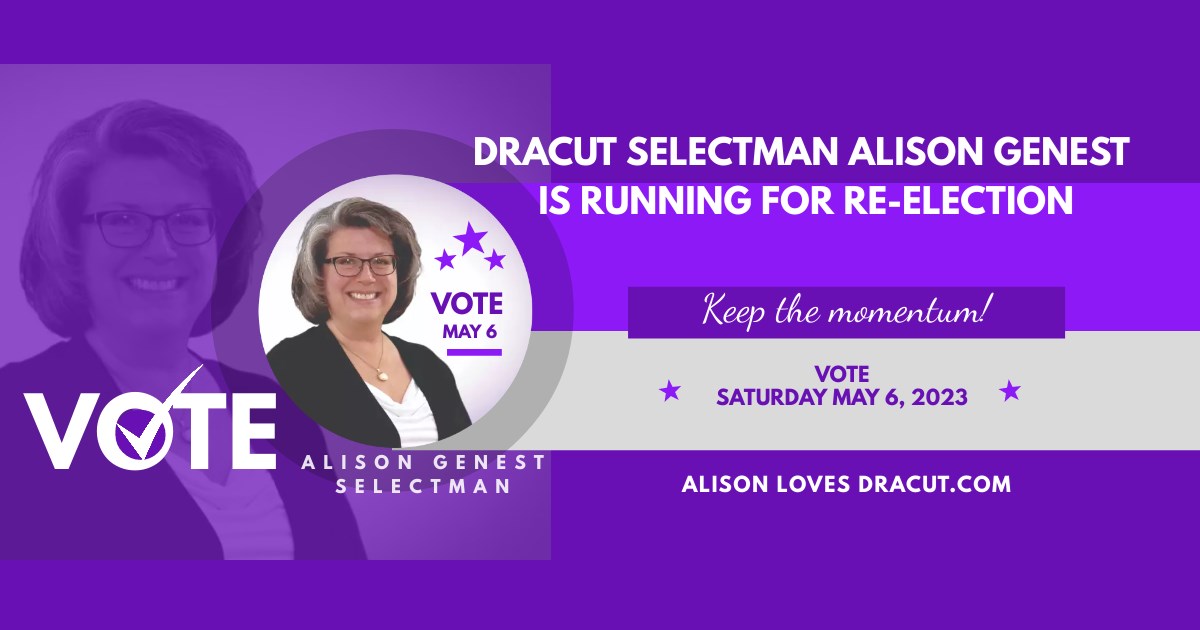 Alison Genest is running for re-election to the Dracut Board of Selectmen in the May 6 town election.

"Dracut is in great shape right now and we need to make sure things stay on the right track," Genest said in a video announcement released today on her AlisonLovesDracut.com website and Facebook page. "We have strong leadership at town hall, town finances are in good condition and capital improvement projects are being tackled all over town. I'm running for re-election—and asking for your vote—to keep the positive momentum."

As a Selectman, in collaboration with her colleagues and the town manager, Genest has worked to keep Dracut affordable, strengthen planning and oversight, and support the town's police officers and firefighters. She has proven to be a strong, independent and results-focused leader.

Genest was elected to the board in 2020. She topped the ticket in a five-candidate race, winning 9 precincts and tying in the 10th. For the last two years, Genest has served as chairman of the board. She previously served as the board's vice chair. She serves as co-chair of the board's Economic Development subcommittee and Public Safety subcommittee.

At her first meeting as a Selectman, Genest made good on her campaign promise to bring forward a proposal for the development and implementation of an annual goal-setting process for the town government, which has been in place for the last three years.

"The annual goal-setting process helps guide the town's success," Genest said. "In addition to providing high-level direction for the town manager and her team, as well as ensuring everyone is working toward the same objectives, the process provides absolute transparency for taxpayers about what our local government is doing, why we're doing it and how we're doing it to keep Dracut moving forward."

Genest has nearly 30 years of private-sector experience in financial services. Her career as a leadership and development professional includes extensive budgeting, management and oversight experience. Genest is a graduate of Dracut High School and the University of Lowell, where she earned a finance degree.

During her first-term on the board, Genest has focused on open space and preservation, forming the Beaver Brook Farm Development Ad-Hoc subcommittee and successfully pushing for the implementation of guidelines for the purchase, use and maintenance of land bought with community preservation funds.

She has helped town residents with a wide variety of issues affecting quality of life, including zoning, public safety, trash pickup, graffiti removal, sidewalk clearing and traffic signage.

Genest has attended 29 ribbon-cutting ceremonies for new Dracut businesses, presented seven Eagle Scouts with citations of recognition and participated in a number of flag-raising ceremonies, town activities and volunteer events.

As Chairman, Genest has earned a reputation for conducting Board of Selectmen's meetings efficiently and professionally, with a warm and welcoming demeanor, while maintaining decorum and order.

"As your Selectman, you can count on me to be positive, professional and pro-active—and, most importantly, to do the right thing for Dracut," Genest said. "I respectfully ask for your vote on Saturday, May 6."