Alison Genest: Support public safety
(Part 6 of a 7-part series)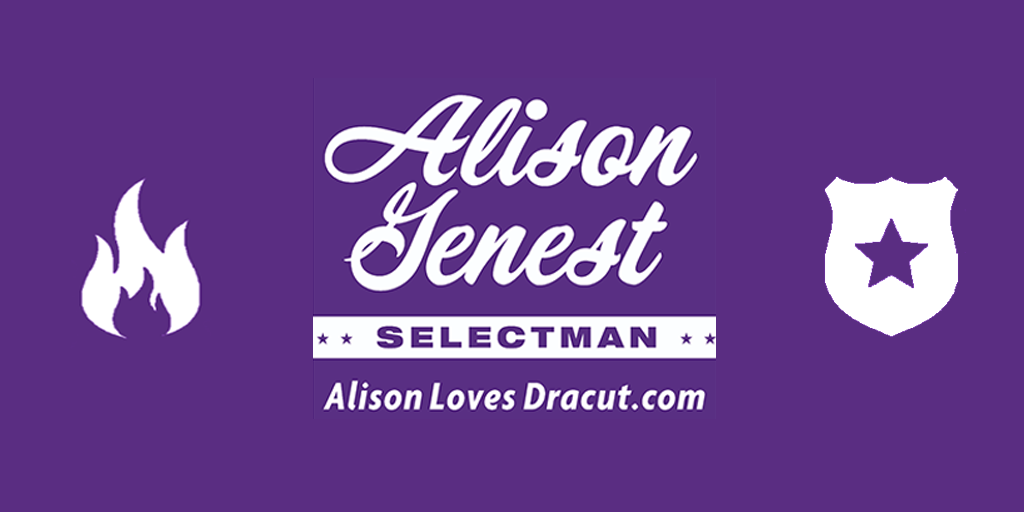 Supporting public safety is a cornerstone of my campaign and one of the issues that made me decide to run for Selectman in Dracut.
I have a deep respect for our incredible first responders and appreciate everything they do to protect and serve our community every day.
You can count on me to support our firefighters and police officers. My dad, Lt. Bill Estabrook, served on the Dracut Fire Department for 35 years.
I'm honored to be the only candidate in this race to be endorsed by both the Dracut Firefighters IAFF Local 2586 and the Dracut Police Supervisors' Union.
Coming from a public safety family, I understand the dangers our first responders face and the sacrifices made by them and their families to protect our community 24 hours a day, 7 days a week, 365 days a year.
Growing up, I remember my dad leaving our family on Christmas and other holidays to go to work. I remember him going without sleep for hours on end while fighting the Lowell mill fire in 1987 and many others. I remember how close all the firefighters and their families are, in support of their mission and each other.
Our first responders are part of a strong brother and sisterhood. They have each other's backs. And they have ours, too.
As your Selectman, I'll support our firefighters and police officers and work to ensure strong public safety, to protect the citizens of our community.
If you have questions or would like to talk about any town-related issue, please call me at 978-957-8585.
I respectfully ask for your vote for Selectman on June 29. Thank you!
---
7 things to know about Alison Genest

[Part 1] Alison Genest: A Dracut native with deep roots in town
[Part 2] Alison Genest: A career financial services professional
[Part 3] Alison Genest: Leadership and organizational development experience
[Part 4] Video ~ Alison Genest: Keep Dracut affordable
[Part 5] Alison Genest: Strengthen planning and oversight
[Part 6] Alison Genest: Support public safety
[Part 7] Video ~ Alison Genest: An experienced outsider